Pour la vente du CD voir en bas ce cette page
CD Live India meets Europe
Indo Jazz World Concert
Pandit Deobrat Mishra & friends
Prashant Mishra, tabla
David Laborier, guitar
Jeff Herr, drums
Damien Prud'homme, sax, flute, clarinet
Special Guest: Pandit Shivnath Mishra, sitar
INDEUROPIA includes hits of The Beatles : Norwegian Wood (John Lennon / Paul McCartney)
While My Guitar Gently Weeps (George Harrison)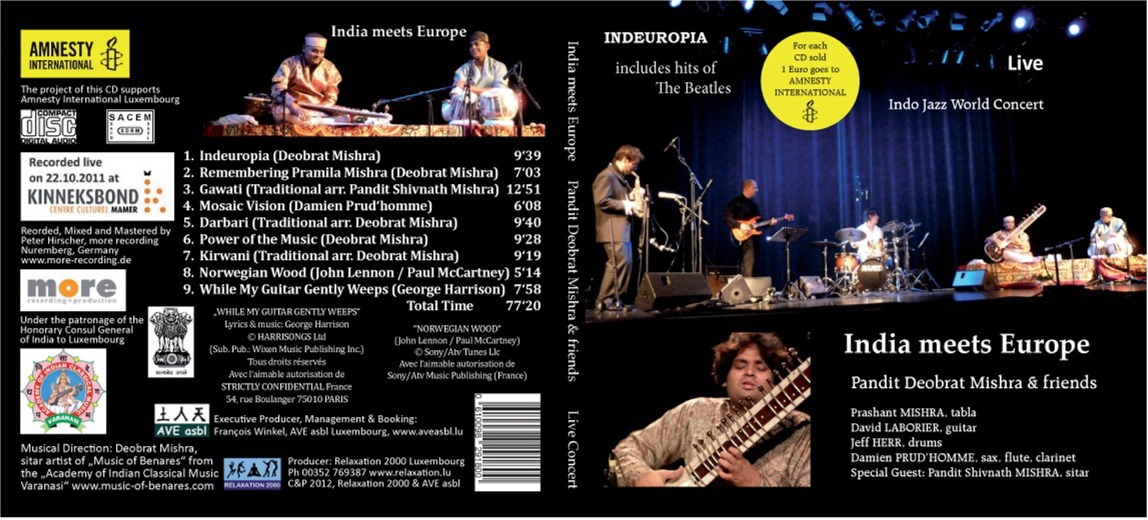 1 Euro / CD vendu sera versé à Amnesty International Luxembourg
Ce CD Live a été enregistré par more recording + production le 22.10.2011 au centre culturel KINNEKSBOND à Mamer.
Le concert a été réalisé sous la direction musicale de Pandit Deobrat Mishra, artiste de sitar du groupe "Music of Benares" issu de l'école musicale "Academy of Indian Classical Music Varanasi" de l'Inde.
Le CD Live "India meets Europe" a été produit sous le patronage de Son Excellence le consul Ambi Venkataraman, Honorary Consul General of India to Luxembourg.